10 Best DIY Home Décor Ideas | Tata Steel Aashiyana

Do you urge to make your home more beautiful? Do you wish to customise and personalise your home? How about attempting DIY home décor crafts? These are easy, engaging and fun ways of making your home look beautiful and truly yours. There are various DIY projects and ideas that you can try at home, and they can get so engrossing that you will always be looking for the next idea. So, here are some of the best home décor ideas to get you started.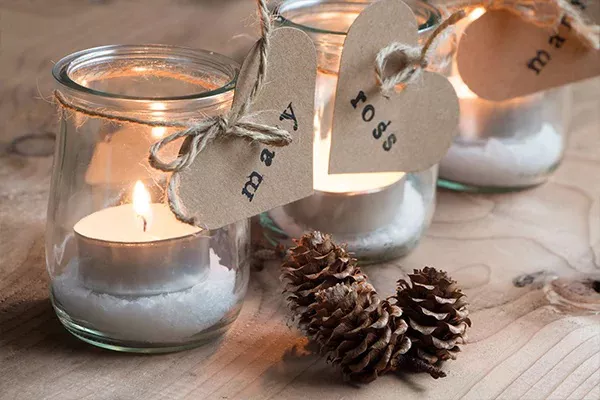 Candles add warmth and glow to the house. These can be the perfect way of illuminating any dull space. If you wish to add this warm glow in your home, then ditch the regular candle holders and try this candle craft. Dig out some empty glass jars, tea candles and sea salt. Give the jars a gentle wash and make the base with the sea salt. Put a tea candle inside it and adorn any little corner with it. If you have the time and like to paint, then take out your paintbrush and colour the jars. An easy and quick way of making your candle craft.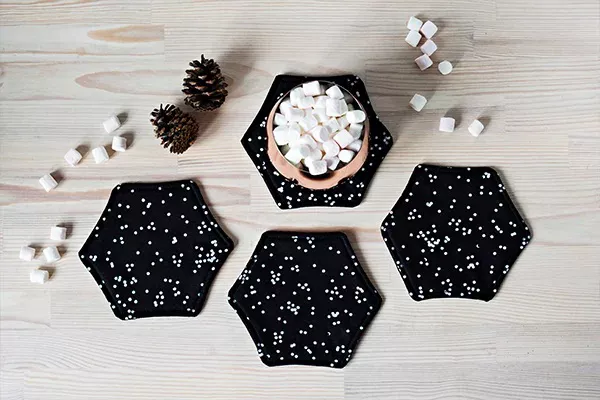 Coasters are always useful, and you won't mind adding some customisable range. Imagine those days when you have more guests at home and fewer coasters? It's hard to remove those stains from your furniture the next day, and they make your beautiful coffee table ugly. So, let's get started and add some coasters to your already amazing collection. Take out some craft glue, plain cardstock fabric and cork tiles to get started. You can craft something like these geometrical coasters in no time. It comes out pretty without investing much time and effort.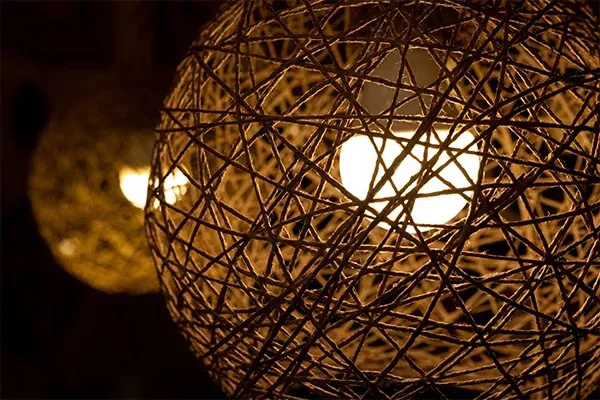 Do you like those hollow yarn ball lamps? You can easily make one at home and will have fun doing it. Depending upon how large you want the lampshade, you can take a round balloon and some strings. You can make it using cotton twine or some other kind of string too, which is not that thick. Then, take out some craft glue, spray paint, hooks and flour and get started. If you want something like this romantic cotton ball lamp in the image, then make it using cotton thread with a large rattan ball. It can be the perfect way of giving your home a contemporary and cosy appeal.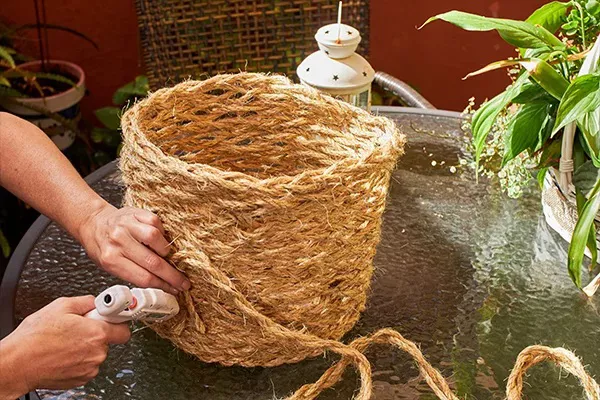 Baskets can be an attractive storage solution in your home. They are great for storing keys, clips, jewellery and various small items. The best part is that you can make it on your own from scratch and quickly. Get a stout rope, hot glue gun and spray paint. Using the string and glue gum, you can craft your rope basket, and the spray paint will come handy in giving some colour to it. You can also keep this kind of basket on your study table or coffee table.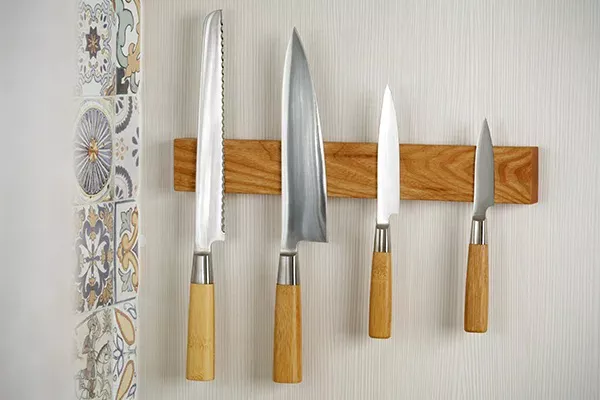 A knife holder is one of those must-have things in your kitchen. It can add to the aesthetic value and safety quotient of your kitchen. Besides, it is easy and quick to make. Get yourself a wooden block, drill, strong glue, bunch of heavy round magnets, hammer, brackets and nails and get started. In no time, you can have a magnetic kitchen holder for your kitchen.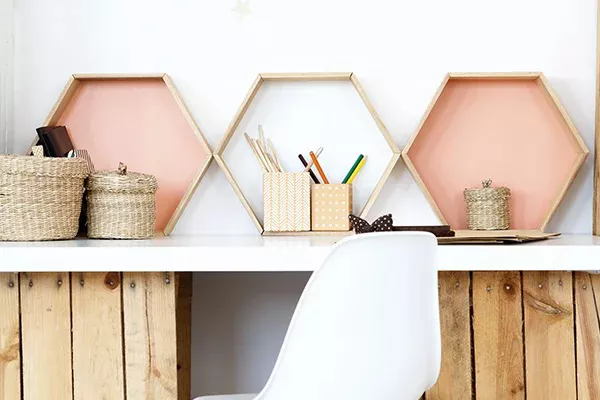 If you can get some more wood, then make a beautiful and funky shelf for your home. Shelves are trending in contemporary home decors. Do you wish to create one? Then it will help if you have wooden boxes, craft paint, paintbrush, saw, wood glue, hammer, nails, and spray lacquer. You can design a wooden box in different shape and accentuate it with a colour of your choice.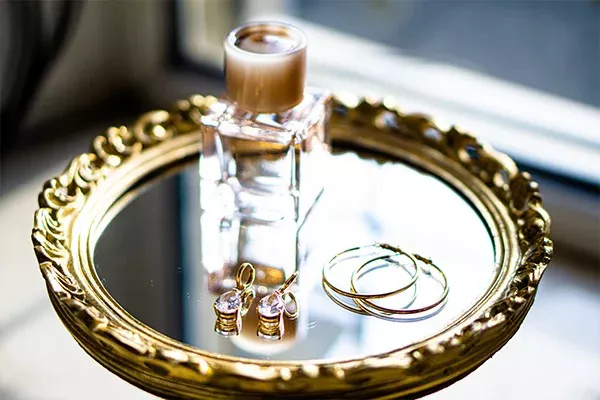 Ditch the regular trays when you can design something unique in no time. Give the mirrored tray a try! Creating a mirrored tray at home is fun and easy. Take out an old regular wooden tray, spray paint it and put a mirror using a glue. It is super quick, and you will get an elegant multipurpose tray.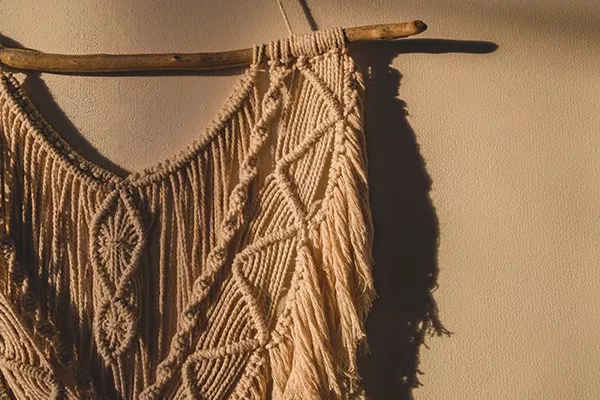 How about adding some woven wall decoration in your room? It is the perfect way to add some colours and texture. Moreover, they have charm too. So, get some loom, piece of cardboard, wooden dowel and scissors to complete this project.
Mason jars are trending, and you can design storage containers or decorations with it. If you have a few of them, then gear up to use them in various useful ways. You can wash and dry them and put them on a wooden block and hang it on the wall. Use these jars as small storage containers or for planting purpose. How about designing a little herb garden as depicted in the image?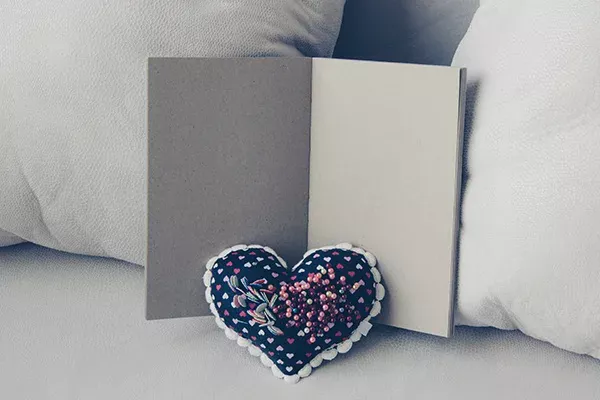 Every home should have some decorative pillows. They add colour, texture and cosiness. If you already have some cushions and pillows, then beautify them with cute little embellishments.
Try these 10 best DIY décors and adorn your home. These are simple and you can enjoy doing them from the comfort of your home with just a few handy things.
Subscribe and stay updated!
Get all the updates on our latest articles and client stories. Subscribe now!