Green Pro Certified Brands on Aashiyana

GreenPro is an ecolabel certification that assists an environmentally conscious buyer in making an informed decision to purchase sustainable products. It is a guarantee that a product bearing the GreenPro certificate is environmentally sustainable over its entire life cycle. GreenPro equips customers with product knowledge and directs them towards sustainable items. GreenPro is a type 1 eco-labelling program owned by CII GBC (Confederation of Indian Industry Green Business Centre) and the standard considers a range of criteria across a product's life cycle. Products achieving the desired score will be certified as GreenPro.

GreenPro encourages the product manufacturer to implement green measures at every stage of product's life cycle including product design, product performance during use, raw materials, manufacturing process, recycling/disposal, etc.
Tata Steel Aashiyana, an e-commerce portal by the larger Tata Steel umbrella brand, is an online home-building platform that offers solutions to all of your home-building needs at one place. It guides you through the entire process of home construction, from start to finish. Tata Steel Aashiyana is a one-stop-shop for creating your ideal home, from comprehending the many stages of the home-building process to allowing you to acquire better quality building materials online.
The brand comprises products from 7 other brands, namely, Tata Structura, Tata Agrico, Tata Shaktee, Durashine, Tata Wiron, Tata Tiscon, and Tata Pravesh. Out of which, three brands, Tata Tiscon, Tata Structura, and Tata Pravesh are now GreenPro Certified.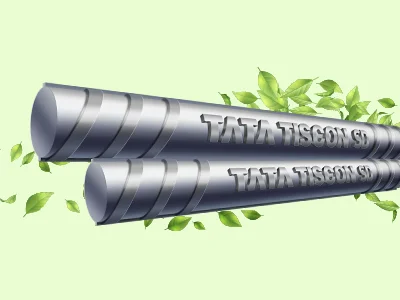 Tata Tiscon was the first rebar brand in India to introduce TMT rebars in 2000, with technological backing from Morgan in the United States. Tata Tiscon's ongoing innovation and creation of radical solutions is the cornerstone of its growing business as India's leading rebar brand. Tata Tiscon was able to obtain the coveted title of India's only rebar 'Superbrand' because of constant technological innovation, production excellence, and exceptional quality. It has recently been GreenPro certified and has become the first rebar brand in the country to receive the certificate. Tata Steel took the initiative and chaired the committee formed by CII GBC in jointly developing the GreenPro Standard for Steel Rebars.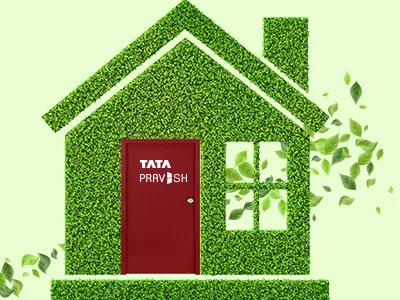 Tata Pravesh, a new flagship brand in Tata Steel's portfolio, provides a comprehensive variety of beautiful and durable home solutions, ranging from steel doors to windows with ventilators. Each item in this collection combines the power of steel with the beauty of wood. The cutting-edge products are long-lasting and provide complete home protection, allowing you to keep your loved ones safe. Additionally, they are 100% recyclable and every 2 Tata Pravesh doors save a tree. It is also to be noted that unlike traditional wooden doors, Tata Pravesh Doors and Windows don't use any formaldehyde based resins in the manufacturing, as formaldehyde is a toxic substance to human health on longer exposure. Tata Pravesh is the first door brand to receive GreenPro certification.
Tata Structura, a brand under Tata Steel Aashiyana, has multiple segments in construction such as architectural, industrial, infrastructural and other general engineering applications. Tata Structura's hollow structural steel sections are techno-economically advantageous products with reduced weight, high structural durability & fire resistance. Tata Structura building structures help to reduce weight by 30% over concrete structures, to minimize the end-of-life waste generation by 100% recyclability. During the construction stage, it also minimizes the dust and particulate emissions.
Aashiyana's Green Campaign: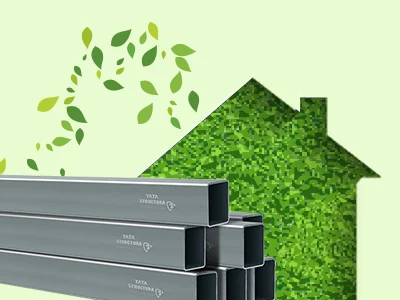 With 5th June being the World Environment Day and Tata Tiscon receiving GreenPro certification in June'21, a special campaign was rolled out for the month, under the global theme 'Ecosystem Restoration'. On every purchase, Tata Steel Aashiyana planted a sapling and sent e-certificates to customers on their email-ids, with a tracker to locate their sapling and follow it while it grows. Tata Steel Aashiyana has been able to contribute tremendously to the environment through this campaign by planting over 2500 saplings so far.
Build a better future with Tata Steel Aashiyana and the various brands under this umbrella brand. Get to know more about Tata Steel, here: https://www.wealsomaketomorrow.com/
Subscribe and stay updated!
Get all the updates on our latest articles and client stories. Subscribe now!