Kitchen Trends - The 2021 Edit

With every new year, there are new trends in home design & interior decoration. Whether it is your dream home's bedrooms, bathrooms, living room or kitchen, there are always new, sleek & stylish trends to get inspired from. While some aspects of kitchen design are timeless- a clean crisp design that is trendy yet comfortable & functional, some aspects can be updated to stay on point with the latest trends!
With a barrage of innovative designs, clever twists on old appliance designs and eclectic colours opinions, building or remodelling your kitchen can be daunting. Here's a list of the most prominent kitchen design trends to look out for in 2021:
Its the moment of marble once again! Giving your kitchen an upscale, classy and contemporary look, marble countertops are also functional, easy to clean and low on maintenance! Not only does marble complement and add textural depth when paired with other polished surfaces, metals & woods, but it is also sustainable & durable.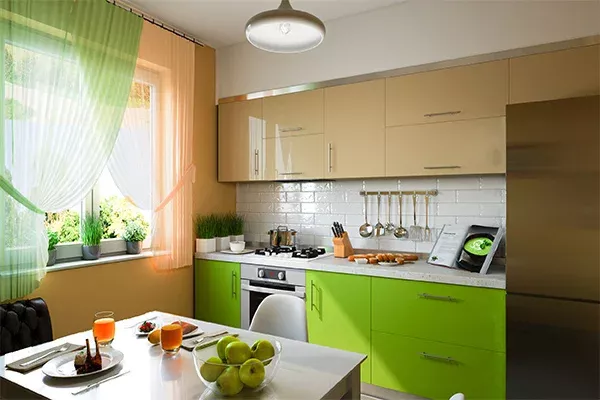 Single colour kitchens? Subdued pastel shades? Or traditional pint-colour pairings? It's time to leave these behind and welcome the age of bright, bold and popping colours! From appliances to cabinets, from furnishings to flooring, there are many opportunities for you to add an eclectic pop of colour to your kitchen design depending on the permanence of the choice and the money you wish to spend!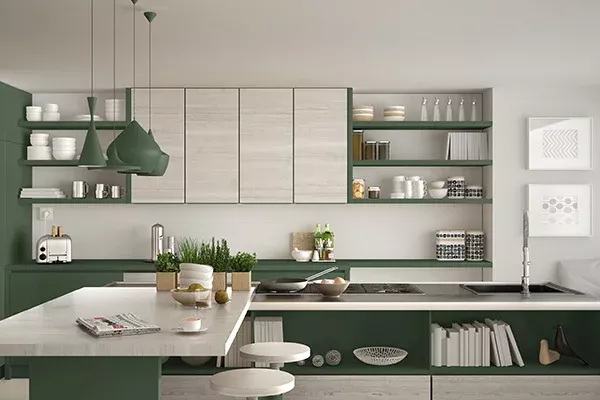 Fueled by innovation in push-open & close doors, one of the latest trends in cabinet and shelf design is going handleless! It has become possible to incorporate handleless designs in both wall and base cabinets in the kitchen. If you do not wish to do away with your handles completely, you can opt for more subtle, recessed handles for the same sleek look!
Energy Efficiently & Sustainability
Do you want to reduce your carbon footprint and control your energy & utility bills? Then this 2021 kitchen trend is the one for you! Energy-efficient appliances and sustainable designs are a great option for you. From energy-smart appliances to energy-efficient windows, an environmentally friendly kitchen design will help you save money and energy in the long run!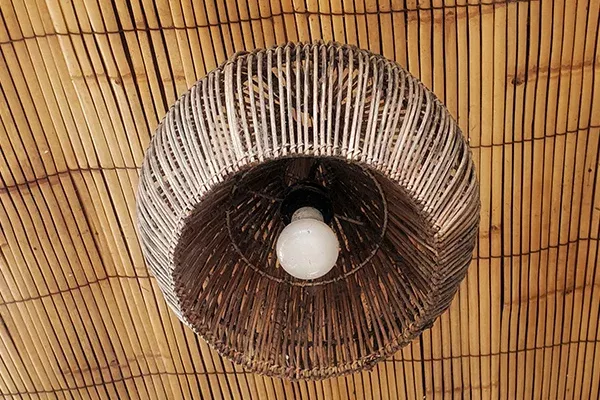 Gone are the days of solid metallic or plastic light fixtures. It's time to bring in a little of nature into the kitchen with natural light fixtures with woven designs made out of jute, bamboo or rattan. These woven fixtures also known as pendant lights are the perfect way to add a contemporary yet natural twist to your kitchen!
Mixed Materials & Textures
Gone are the days of a single finish and texture. Contrast is the new king of kitchen design! Be bold with your choices and experiment with textural pairings, simply making sure that the materials used to complement each other instead of clashing! A fusion of different textures like brass and steel or marble, wood & metallics not only gets rid of design monotony but also makes the kitchen more visually pleasing & harmonious!
Inspired by these latest kitchen trends, it is now time for you to take the next step in your dream home building or remodelling journey! And if you're looking for the right contractor, dealer, architect or fabricator to put your vision into action, locate and contact them here! Find the most experienced and trustworthy building professionals and see your dream kitchen turn into a reality!
Subscribe and stay updated!
Get all the updates on our latest articles and client stories. Subscribe now!